Overview
Today's pump marketplace is highly competitive, with manufacturers facing intense pressure to streamline & improve business processes. Technology-driven manufacturers are hence adopting software applications to optimize their product sizing, selection & quotation processes, to increase accuracy & productivity of their sales teams.
precisePump is a guided sales software for the pump sizing, selection & quotation or pump CPQ process. Its intended users are sales teams, application engineers, representatives or distributors, and end-customers. It helps automate & streamline the sales cycle and helps your organization and business partners make better decisions. It is not a CRM application, but software that enables pump sales teams to quote easily, quickly & precisely.
It is custom-developed to fit your business needs and sales process. The solution has been architected for the Windows, Web & mobile platforms. Ease of use, scalability, a consistent look & feel across platforms & integration with enterprise applications are its technology highpoints.
Industry standard calculations
Various calculations are performed by the software during the pump selection & configuration process. These include:
Viscosity & Consistency Correction Factors
Stock correction factors
System Head & NPSHR
VFD Correction Factor
Shut-off Head
Impeller Diameter
Efficiency
Multi Speed calculation
RPM
BKW
Other calculations
Pipe line calculation
Friction loss calculation
Calculation of operating and life cycle costs
Calculation of energy efficiency index (EEI) & the Minimum Efficiency Index (MEI)
Design Point Calculator
Users can calculate the total head for the system at the required flow rate. The software inputs the suction and discharge piping parameters including tank conditions, pipe length, pipe material and sizes valves & fittings. Using the desired flow rate, it calculates the total head for the system.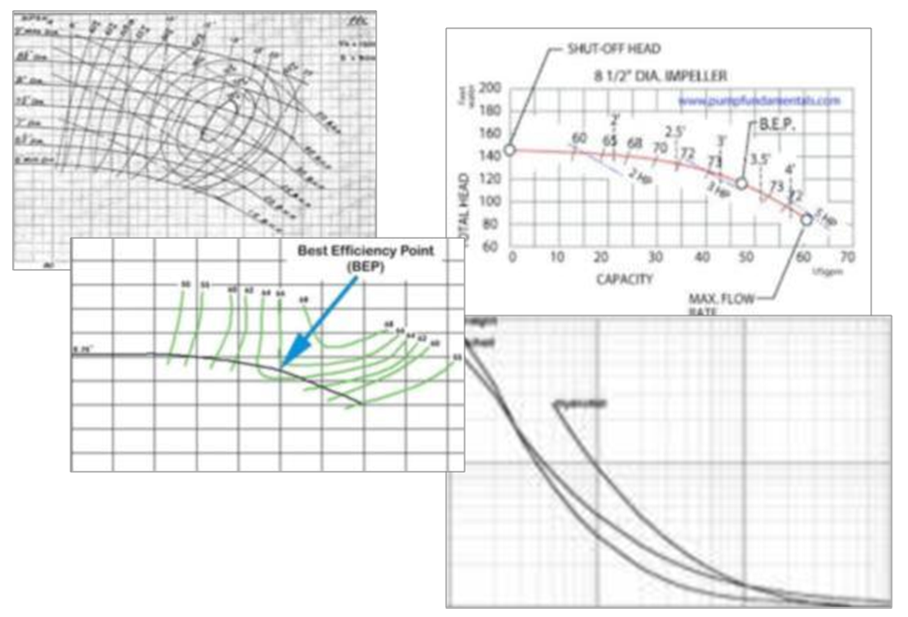 Guided Selection & Configuration
Complete selection & configuration of pump system is performed according to specified operating conditions. Pump selection is based on parameters such as:
Industry & application
Fluid - type, viscosity, vapor pressure, Ph value, density, presence of solids, stock consistency, Specific Gravity of liquid
Flow rate, Head
Suction pressure
Temperature
NPSHA
Selection methods followed include:
Hydraulic selection by duty point
Product selection browser by series description
Product search by description or item number
Comparing alternative configurations enables the user to evaluate multiple options in order to arrive at the most suitable configuration as per priority of performance or cost. Ranking of suitable options is done based on efficiency, speed, Best Efficiency Point, BKW, minimum capacity, impeller diameter & price.
The following validations are carried out during selection:
Application & industry
Fluid type
Capacity & Head
Suction pressure v/s vapor pressure
% of solid particles
Viscosity limit
Operating limits for pressure, temperature,
Hydraulic Selection:
Dimensioning & configuration of pumps based on operating conditions such as application area, flow rate & head, medium, dimensioning
Dimensioning with multiple duty points; for different fluids
Configuration
Pump configuration is carried out in several steps. The software checks if the selected pump meets all the required parameters. All available configuration options are displayed during selection.
Each component of a pumping system such as hydraulics, shaft seal, prime mover, coupling or base frame are selected by combination of technical attributes.
Alternative Options
Choose the best fit for purpose valve from a set of valid configurations, against key performance parameters
Compare alternative options against parameters such as:


- Performance attributes – BEP, impeller, RPM, etc.

-OR Price

Compare options - Graphically, through efficiency curve OR as configuration data
Select best-fit option against the most critical parameter/s
Other
Selection of prime mover
Make & model which meets required speed, BKW & frequency
Selection of VFD based on Duty Points or speed
Selection of accessories is done either as per a selected configuration or via name or item number. It is possible to define parts necessary for the dimensioning of the pump or additional elements like colour or warranty extensions as an accessory. Accessories can be classified in the database program or combined to groups. Accessory classification is done according to selection steps (e.g. mechanical or electronic accessory).
Selection of accessories
Counter flanges
Pressure gauge
Temperature gauge
Pressure switch
Instrument mounting
Strainer type
ARC valve
Balancing Leak Off Line
Selection of spare parts
Search & selection of spare parts, which can be used independently of the product or depending on the selected pump aggregate, is possible. Selection of the respective spare parts is done via the spare parts list / drawing. Definition of different prices for different markets is also possible.
Commercial
Pricing
Pump pricing is performed according to the selected configuration including all components and accessories, as total price or on the basis of single components. Product configuration is linked to the price table and if necessary item number. Integration with other applications, such as ERP systems, is possible.
Your pricing policy is enforced to ensure consistent & competitive quotes. A recommended spares list can also be generated for commissioning & operations. Management of prices for different markets and support for different currencies are also offered.
Some key points
Detailed price break-up
Dynamic product codes link configuration with price table & item numbers
Facility to select commissioning & recommended spare parts
Commercial & loading factors for manufactured & bought-out parts
Back calculation of discount
Price calculated as total or based on the price of each component
Dynamic product codes link configuration with price table & item numbers
Facility to select commissioning or multiyear spare parts with list price
Commercial & Loading factors for manufacturing and bought out parts
Bac calculation of discount for a given selling price
Quotation
A comprehensive, content-rich proposal package can be generated aligned with the organization's business needs. The contents include:Covering Letter
Comprehensive datasheets - detailed datasheets can be generated and provided.
Optional display of delivery times as well as product availability
Quotations - brief / detailed
Spare parts list
QA / QC Plan
Terms & Conditions
Lubrication chart
Price sheets
Various drawings can be generated as per project need, such as -


- General Arrangement Drawing

- Production Drawing

- Dimensional Drawing

- Casing Drain Drawing

- Plans - Flushing, Quenching, Cooling

- Coupling Drawing

- Auxiliary Connections Drawing

- Cross Sectional Drawing

- Adapter/Reducer drawing
Performance curves such as viscous performance curve, consistency performance curve, VFD (Variable frequency drive) curve, VFD + viscous performance curve, etc. available as per user selection along with duty points.
Quote submission management
File upload status
All quote status
Web interface to update status & other information
Dashboards – reports